The Prison to Liberation Pipeline
How Planting Justice is changing the way we think about land, ownership, and justice.
Radical: a badge of honor for some, a label to avoid for others. But what does it mean, and what does it look like in practice?
On a sunny afternoon, I visited Rolling River Nursery in deep East Oakland. Rolling River Nursery is the latest addition to the Planting Justice ecosystem of businesses and services, and boasts the largest organic fruit tree collection in the United States. As a food justice advocate located in the East Bay, I have been familiar with the work of Planting Justice for quite some time, but it was only after talking with Gavin Radars, co-founder of Planting Justice, that I began to realize how truly radical they truly are.
Radical (RAD-ik-uhl): relating to or affecting the fundamental nature of something; far-reaching or thorough. Derived from radix – going to the root.
Planting Justice working with youth to build a community garden.
Planting Justice is a nonprofit who is most well-known for working with people who are formerly incarcerated, creating opportunities for full time employment in Oakland, CA, working as landscapers, retail employees, organizers, and educators. Only 2% of the people they've worked with have been incarcerated again (this is known as a recidivism rate) compared compared to California's whopping rate of  nearly 45%. What Gavin and Haleh, the founders of Planting Justice, realized was that to keep people from "reoffending," they had to not only provide mentorship but full-time employment with benefits and a living wage . The unemployment rate for the formerly incarcerated is upwards of 27%: nearly five times higher than the general rate of unemployment in the United States. This, too, is racialized: "those who are Black or Hispanic — especially women — status as "formerly incarcerated" reduces their employment chances even more." And, they are the ones who are most likely to end up in prison, with Black people 5x more likely to be incarcerated than white people. This is a systemic problem, one that needs a systemic solution.
While working as volunteer instructors at the Insight Garden Program in San Quentin Prison, Gavin and Haleh saw the many ways that disconnection to land manifests and how a connection to the land transformed. The program highlighted the reciprocal relationship between people and land: as they cared for the land, the land cared for them. But would the inmates have the same opportunity to care for the land once they got out?
Recognizing that their relative privilege allowed them to acquire resources more easily, they decided to use that privilege to create opportunities for folks after they got out of prison, and Planting Justice was born. Gavin and Haleh saw sustainability and self-sufficiency as a crucial piece of food justice work and didn't want to be dependent on grants and foundations, who support comes and goes. They wanted to build a resilient organization. With that in mind, what else could serve as the perfect inspiration for their business model, other than permaculture? 
A diverse model with multiple revenue streams and the use of outputs as inputs has resulted in an organization whose holistic approach to justice tackles housing, economic justice, food justice, and land access. Society's outputs, the formerly incarcerated, were given an opportunity to work, grow, and heal. Those who couldn't landscape were taught how to organize and to canvas, bringing in thousands of donors who continue to support the work of Planting Justice. Their nursery and farm create additional revenue streams. For every four gardens createdin the "Transform Your Yard" program, Planting Justice builds one subsidized garden for a community in need. The staff at Rolling River Nursery is comprised mainly of people who live in the neighborhood, bucking the trend of urban gardens gentrifying a space.
Planting Justice is creating pathways of employment that include educators, farmers, organizers and more, and in doing so are shifting power into the hands of those who are systemically and systematically barred from it. That isn't all they are doing though.
Members of the Planting Justice team are propagating plants and planting justice for themselves and for others.
Whose land is it, really?
Sitting on tree stumps at the edge of the Rolling River Nursery, Gavin's profound and simple question has been resonating with me ever since meeting him. The nursery, Planting Justice's nursery and urban farm, is the only green space that is accessible to the public in the Sobrante Park neighborhood in East Oakland. A prime example of a solution that does not get to the root, the only park in the neighborhood was shuttered nearly 15 years ago after a series of shootings. This two-acre nursery, nestled amongst a mixture of homes and abandoned buildings along Highway 880, is now where the community goes to convene and celebrate in outdoor public spaces. The nursery itself, which hosts North America's most biodiverse collection of fruit trees, is notable with its seemingly never-ending rows of trees interspersed every so often with the friendly faces of workers.
The image, though, that will always have a place in my heart is that of a clear space towards the back of the property. This image is profound because it is land that has been given to the Sogorea Tè Land Trust, an Indigenous and women-led land trust. This quarter-acre parcel of land "will be a center of spiritual connection and ceremony where hundreds of people will be able to come at a time and bless the land." With wildfires becoming too numerous to keep track of, and droughts a commonplace state of being, California could use some blessing.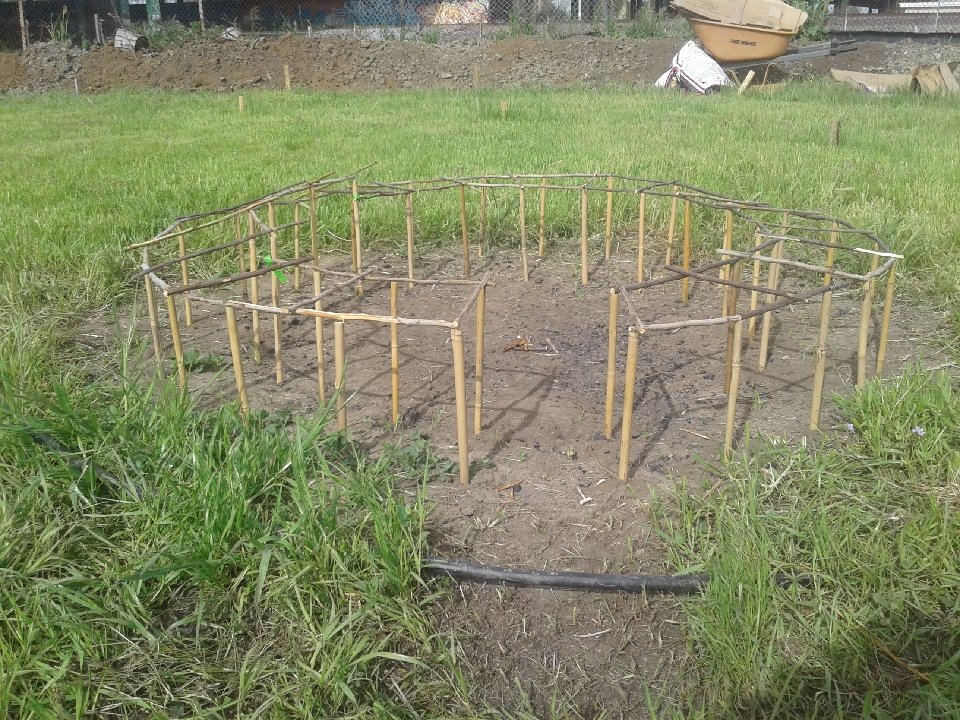 The model of the ceremonial Ohlone arbor, first to be built in the Bay Area in hundreds of years.
The land trust is not just for native people, it is for all people to get back into right relationship with the land.
Soon, ownership of the land that houses Rolling River Nursery will transfer to the land trust. Planting Justice will then lease the land from Sogorea'Te Land Trust, to continue to do their work. This is the plan for all of their land. Indigenous author and scientist, Robin Wall Kimmerer, says "It's not just land that is broken, but more importantly, our relationship to land." It is that relationship to land that the people of Planting Justice and Sogorea'Te Land Trust are hoping to rectify, "the land trust is not just for native people, it is for all people to get back into right relationship with the land."  It is not about land to control, but land to cultivate connection, culture, and prosperity for all.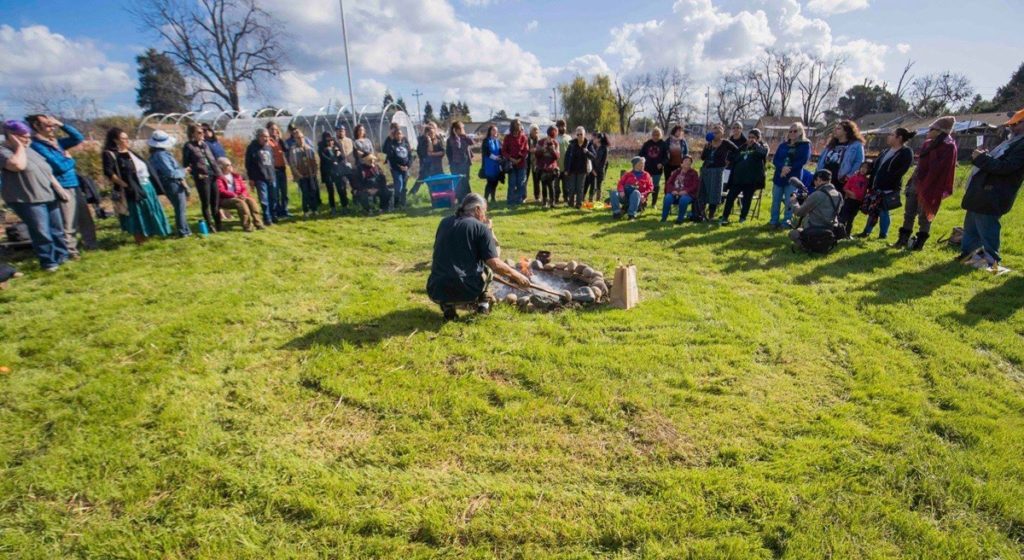 Blessing of the future Ohlone ceremonial space at "Free the Land."
From the beginning, Planting Justice has adapted to serve the people better, whether that meant creating a for-profit arm to purchase their five-acre farm or rapid fundraising to take on Rolling River Nursery, North America's most biodiverse permaculture nursery. With strategic partnerships, creativity, initiative, and an unwavering values-centered approach, Planting Justice has grown into an organization with a $2M operating budget.
This ecosystem of programs works because it is supported by yet another ecosystem, one of the investors, funders, and partners who are just as nimble as Planting Justice. Slow Money NorCal is a part of this ecosystem, and has stood out due to its "relationship-based nature and nimbleness." Slow Money doesn't just invest in your venture, they invest in you, and they get their friends to invest in you, too. Hearing Gavin speak of Slow Money NorCal reminded me of mycelium. Mycelium is the underground vegetative part of a fungus that consists of a network of fine, white filaments. It has been gaining in popularity as we begin to understand more about what they do. Mycelium connects roots to one another and breaks down plant material to create healthier ecosystems. According to Complex Movements, a Detroit-based organization which studies the relationship between emergence and movements for social justice, mycelium represents "Interconnectedness. Remediation. Detoxification."
Let's face it, there are few frontiers left to explore or exploit. Our efforts must be focused on remediating, detoxifying, and connecting. One way to do this is to support the initiatives of organizations like Planting Justice, who actively work to heal both land and people, creating a necessary pipeline from prison to collective liberation.
Planting Justice is a multi-pronged organization dedicated to transforming food systems for all, starting within prisons. Born out of Insight Garden Program, a garden program inside San Quentin Prison, Planting Justice offers formerly incarcerated people full-time employment with a living wage as: educators, landscapers, and farmers.
Their emphasis on permaculture, which highlights diversity and repurposes waste, is also seen within their business model: they offer a range of services from building gardens in the Bay Area to selling fruit trees nationally, and they believe in "no wasted people." Their programs work together to enhance food sovereignty and provide economic opportunities to those who are traditionally barred from the economic system.
To find out what else they are up to check out their website and follow them on social media. 
Gavin Raders and Haleh Zandi at "Free the Land."