Guest post by Sarah Ahern, The Cleaver Group
When I say we build healthy food environments for companies, a lot of people ask, "That's sounds great, but what exactly does that do for an organization?"  A fair question!  The conversation around food is robust, but very little of it focuses on using food as an organizational or community development tool.
The idea of employee engagement, however, is a big topic for leaders striving to create a thriving and productive population.  We believe food and engagement are two sides of a pretty powerful concept.  So, our answer is this – Food is, hands down, the best way for organizations to facilitate a cultural change and engage employees by investing in them in a meaningful way.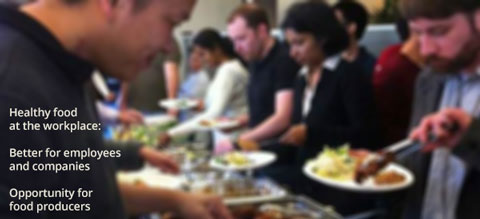 That's a big statement!  Let me explain exactly what we mean – The biggest issue with employee engagement execution strategies is that it's difficult to find a program that addresses your entire population.  Many programs speak to a small subset of people, but that means you'll have to create and execute a number of options to try and get everyone involved.
We've done quite a bit of research to understand this problem – specifically, is there something  definitive in our experiences that would speak to everyone?  If I was in a room with a lot of people I'd ask this question – how many people in this room eat?  Everyone would raise their hands and I would say, EXACTLY.  Everyone eats.  Eating is the one definitive of the human experience that speaks to everyone.  So, that's what we do – we work with companies to create healthy food environments as a way to invest in their employees and create an engaged workforce.
And when I say engaged I mean this – engagement is defined as a sense of profound connection between an employee and an employer.  The way to build that is to invest, not just inside the four walls of the company experience, but invest in a way that provides value outside of work.  Investing within the four walls has an obvious value for the employer and employees see that.  Investing in a way that provides value to an employee's life at home and everywhere else – THAT is meaningful.
Food does just that – food doesn't just exist within a company, it's a part of every aspect of life.  People already use food as a way to build connection.  Especially healthy food – providing healthy food to employees influences their work life, their home life, their families, their communities in a positive way, and that is a powerful experience.  Invest in your employees and engage them through healthy food.